McGillicuddy Humanities Center Film Series: Zama
October 21, 2019 @ 6:00 pm

-

8:30 pm
Event Navigation
The McGillicuddy Humanities Center Film Series will feature a collection of six films throughout the academic year related to "The Cinema of Colonization and Decolonization." The global films in the series, from France, Africa, Canada, Argentina and the United States, examine colonialism, racism and post-colonial identity, as well as decolonization of the film industry itself. All films will be shown in the Hill Auditorium in Barrows Hall at 6 p.m. on the listed Monday dates, and will be presented by speakers from across humanities disciplines.
The first film in the series is "Zama" (2017), directed by Lucrecia Martel with a runtime of 115 minutes. The University of Maine's Jamie Haverkamp (Anthropology) and Carlos Villacorta Gonzales (Modern Languages; Spanish) will introduce the film, discuss its depiction of colonial South America, and moderate a question and answer session.
Review of "Zama" by David Sims in The Atlantic:

"'Zama' is a warped portrait of colonial power left to rot in the sun, a feverishly funny and surreal experience that mostly turns its nose up at narrative. It's based on Antonio di Benedetto's 1956 novel of the same name, but that book tells its story through Zama's internal monologue, as he schemes to find ways out of the assignment he's been handed by the Spanish empire."
The film series continues on the following Mondays:
Nov. 4 — "Carol" (2015), dir. Todd Haynes, 118-minute runtime
Nov. 18 — "Before Tomorrow" (2008), dir. Marie-Hélène Cousineau and Madeline Ivalu, 93-minute runtime
Spring films and dates announced soon.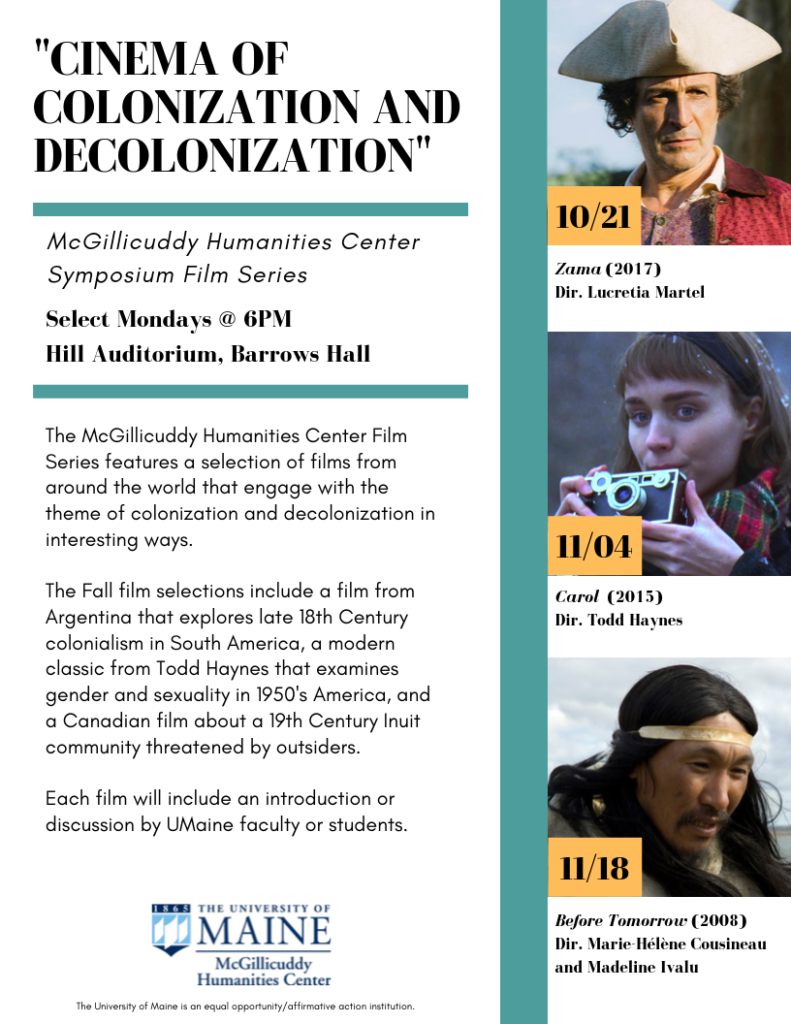 Related Events